Our continued sponsorship to Ngee Ann Polytechnic for their annual FSV Location Filmmaking Awards Day 2017 held on 18 April.
Congratulations to Ms Rebecca Lim (Best Sound)! Enjoy your new pair of Custom Street! Click on this link for the Awards Day: https://youtu.be/9CsKVvya18c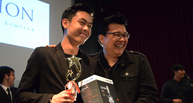 Our sponsorship to Ngee Ann Polytechnic Final Project (FP) award night 2015. The winner is now the proud owner of our customised SG50 Custom One Pro.
"Thank you so much in continuing to support me and my little event for the students. It means so much to me and them to see that their efforts to make their little films are appreciated." – Mr. Adrian Lim , Lecturer School of Film and Media Studies …Read More »
---
Shenzhen, China : Tendzone has opened a new office in Singapore – its first out of China. The office will serve as the springboard for expansion plans from 2015 onwards. The office in Singapore will provide facilities for demonstrations , customer and partner training, as well as part of inventory management.
"Over the last three years, we have been successful in expanding into new markets, achieving increased sales and brand awareness. Our next step is to help our partners, who have our shared passion for quality audio, gain better product knowledge. …Read More »